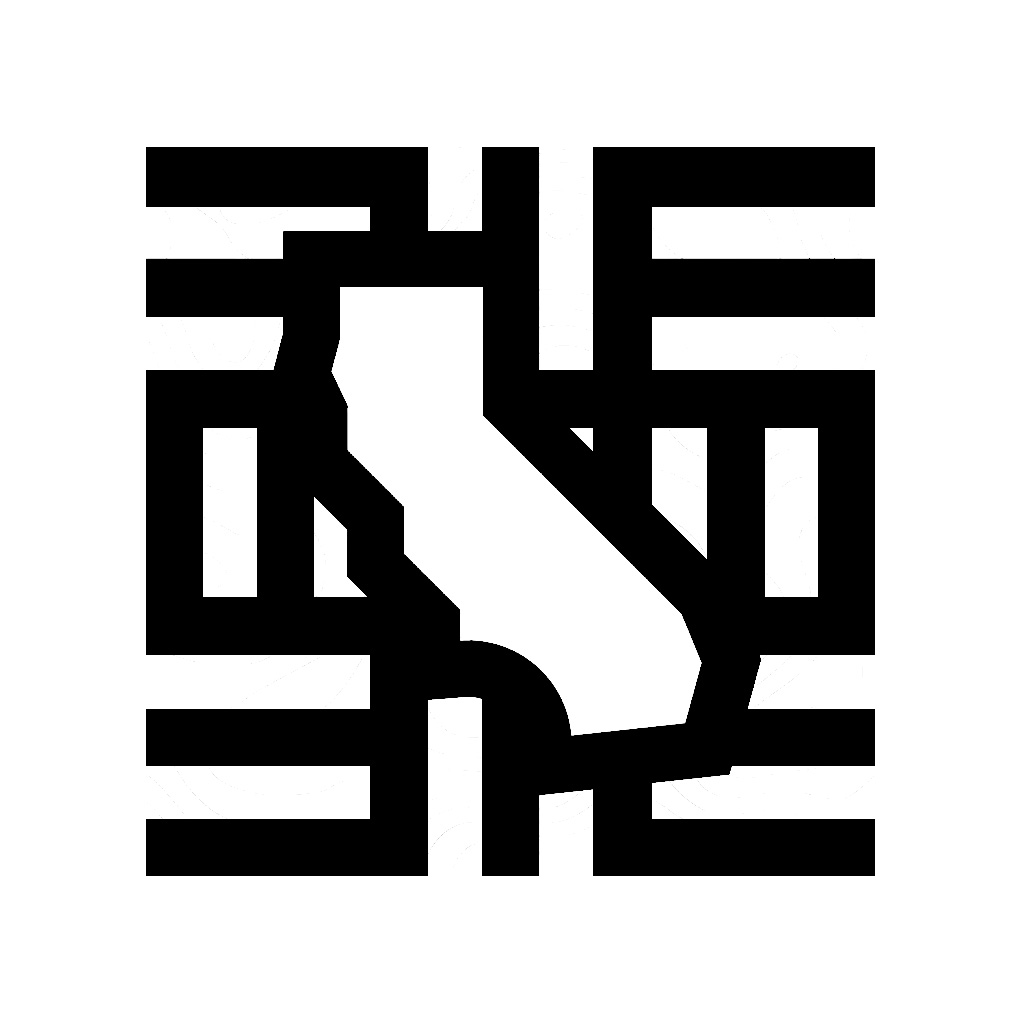 MBC, a Black Voice News project, equips the state's population with data-driven knowledge on all things Black and data in California to eliminate regional and local systemic inequities.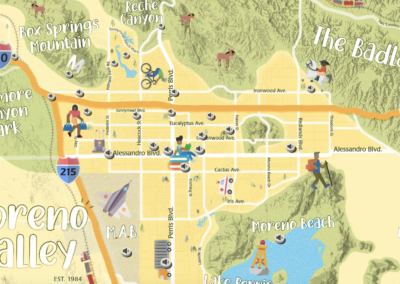 Moreno Valley is a vital, yet overlooked, part of the narrative on Black migration to the Inland Empire. Through oral histories collected from past and present Black residents, The Blackest City captures the experiences and stories of building a family, practicing religion, making a living, building community, engaging in sports and leisure activities, and raising the young in Moreno Valley. These stories were geographically pinned on a map, offering a tangible representation of the community's history affirming the communities vision for a thriving and inclusive community in the Inland Empire's Blackest City.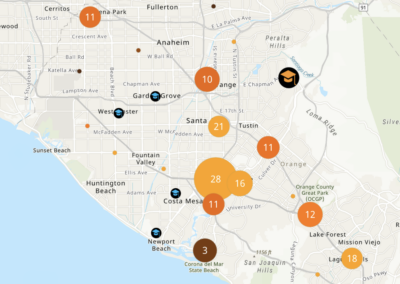 Facilitating the job search for Santiago Canyon College's students as they transition out of the school's presitigous real estate program and into the workforce by displaying the areas with the highest concentration of employment opportunities.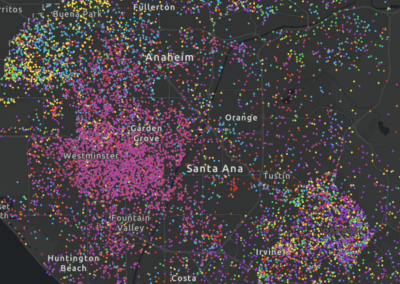 Maps on disinvested communities, equity inclusiveness, COVID recovery, and sustainability/environmental justice grounded the region's planning process in data helping to ensure equitable decison making.
MBC designed and developed a data visualization of news ecosystems in Los Angeles County as a means to identify reach and gaps in information dissemination to socioeconomically and racially diverse Los Angeles County residents.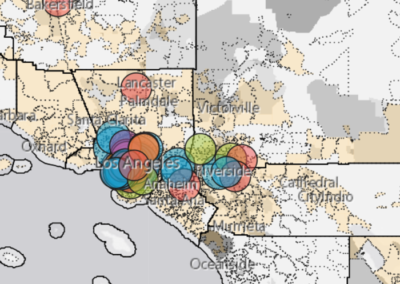 Mapping Black California developed a map visualizing Black Led Organization (BLO) giving patterns in Southern California Gas Company (SoCalGas) territories from 2019 - 2020.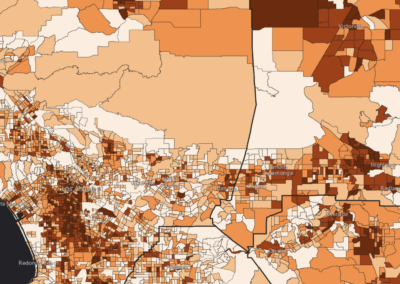 A collaborative effort with Black media to statewide working collective on Census 2020 reporting and community engagement for a complete count.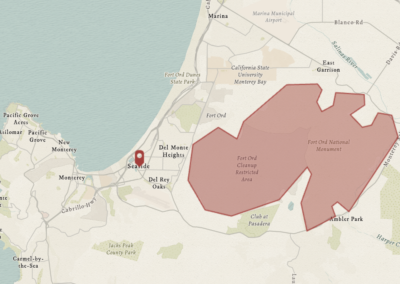 Despite civil rights laws, informal discrimination and economic barriers restricted their access. Specific cases like the Pacific Beach Club and Bruce's Beach illustrate the resistance and discrimination Black beachgoers encountered. However, recent efforts have led to the return of Bruce's Beach to its rightful owners."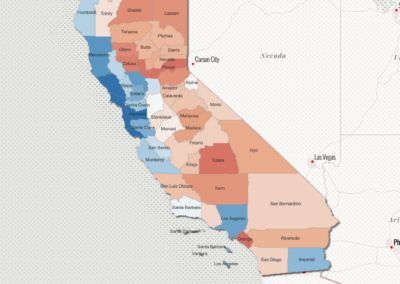 Over the past decade, California has experienced a growing Democratic trend in presidential elections, indicated by an increasing ratio of votes for Democrats compared to Republicans,as the state's diverse population, including Black, Latino, and other voters of color, mobilizes and prioritizes issues relevant to their communities."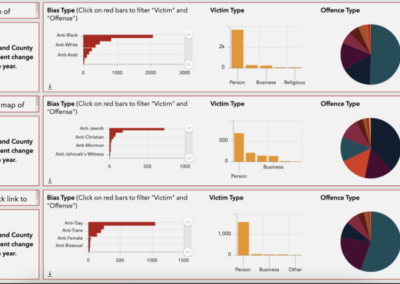 The incident of racist graffiti at Hamilton Elementary School in Anza, Riverside County, and the subsequent arrest of two individuals highlight the enduring issue of hate crimes in California, dispelling the notion of the state's liberal reputation, while emphasizing the importance of understanding and addressing these acts of hatred through an in-depth examination of hate crime prosecutions and convictions.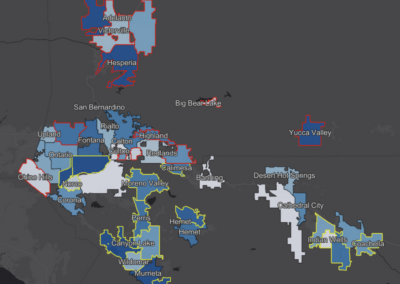 The movement to defund the police gained momentum following the killing of George Floyd in 2020, prompting a reevaluation of the exorbitant amount of funding allocated to policing in the United States. Despite a decrease in criminal activity, police budgets have consistently grown over the years, with local, state, and federal governments contributing to the substantial fiscal support. The allocation of funds to law enforcement, often without clear objectives or constraints, has overshadowed investments in vital community needs such as education, housing, and mental health services. It is imperative to shift resources towards alternative initiatives that promote safety and security without relying on a system characterized by violence and discrimination.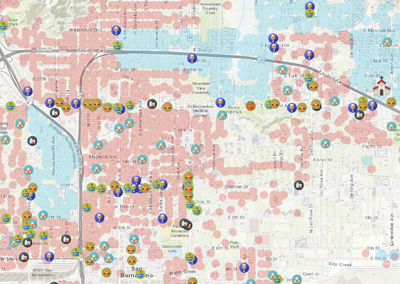 So-called food deserts exist throughout San Bernardino County and are characterized not only by the lack of affordable grocery stores within a 1 mile radius, but they are also marked by other socioeconomic factors such as poverty, racist infrastructure, unaffordable housing, lack of transportation access and low-income.
Black-Led Organization Directory
California's only statewide comprehensive list of Black-Led Organizations (BLO). Navigate our searchable database by county or main category to find BLO addresses, contact info, websites, and mission statements.
Founded, led, and operated by Black women. We are a team of storytellers with diverse backgrounds ranging from literary theory to theatre identifying inventive avenues for data visualization in journalism, strategic media consulting, and beyond.